About
Alan Chazen Profile
Born:                                                                       July 14 1952
Married to Leigh Patterson:                                  October 1 1982
Children:                                                                  Dylan, Kirby, Drew, Baili
Started in the motivation industry:                       1976
Alan is the author of over "100 quotes by Alan Chazen", three motivational programs, "LifeWorks" "My Ideal Lifestyle program" and "Self-Mastery" and a leader in the field of Human Capacity building.
Alan has run courses, seminars and given talks to companies on four continents including Lotus Software, The Institute of Real Estate Agents, Jacks Hardware Stores, Success Motivation International, TheHomeMag, Liberty Life, Crusader Life, John Dory's,  McCarthy Motor Corporation, First National Bank, Absa Bank, Standard Bank, Investec, FreightMax, Old Mutual and many more. He has also coached top leaders in industry.
He is well known in South Africa for his five year stint on Wednesday mornings as a guest on Radio 5's breakfast show with Martin Baillie " Chatting with Chazen." He was profiled on SABC's "Profiles" and in "Woman's Value" "Fair Lady" and "The Star" newspaper.
Dave Boreham, well known international author, trainer and public speaker had the following to say: "I have been very fortunate to, over the past 17 years, be exposed to many of the top teachers, speakers and facilitators of the world. I personally believe that Alan ranks as the best. He has an incredible insight into the behaviour of people and a unique ability to teach in a manner that is salient, real and gets to the core of human understanding." Dave Boreham CEO MCA Training International
Endowing individuals with skills or inspiration without first building their capacity to receive it is as futile as trying to empty a fuel tanker into a drinking glass. The majority of the load will be spilled and wasted. The same applies to books, seminars, courses and inspirational talks. The problem seldom lies in the material – it lies in the capacity of individuals to ingest, assimilate and utilize what they are taught. Alan has discovered over the years that there are only 4 root causes that limit human capacity. The same causes are responsible for every form of human unhappiness. They are the cause of every known human idiosyncrasy.
He has developed a state of the art software program "Self-Mastery" which eliminates these 4 root causes.
Alan has also developed a reputation for finding an individuals core motivator. Everyone has one yet no one seems to know what it is. Understanding what our core motivator is allows us to soldier through hardship with enthusiasm because we understand the purpose. It inspires us to do the routine tasks that most people shrink from that are essential to long-term success.
Alan is happily married to his wife Leigh of 36 years and they have four children.
He is a professional musician and plays a weekly gig with his eldest son Dylan, has played to a 7 golf handicap and played rugby, swam and did pole vault in his youth.  He is also a qualified scuba diver.
He acknowledges that everything he has discovered was already there created by our Creator and that we simply have the privilege and pleasure of discovering these valuable truths.
His deepest pleasure is sharing these truths with others and seeing the effect it has in their lives.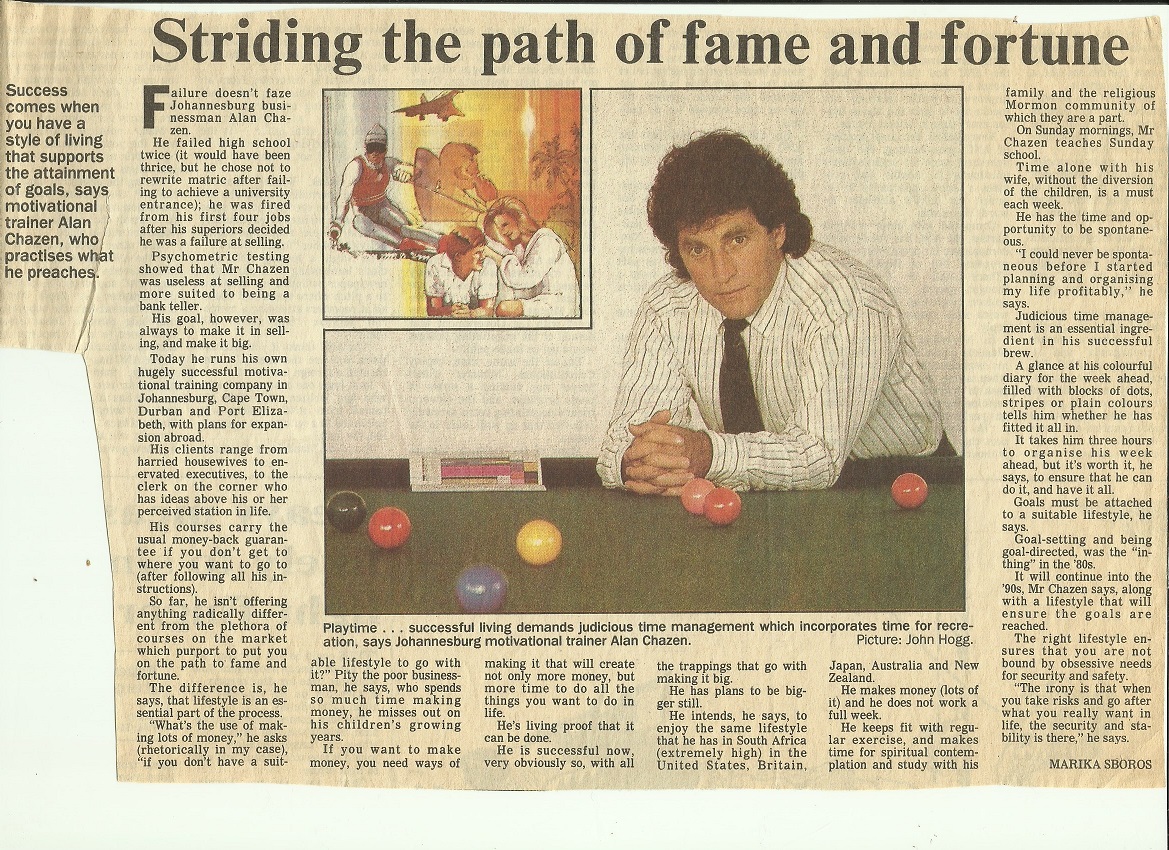 Download flip book
Join our mailing list to receive the latest news and updates from our team.